Learn about the horrific destruction of a huge piece of Canada known as the Alberta Tars sands.
The destruction of the natural world for ever. 
This page will have many articles from many different sources so keep coming back for updates.
https://www.facebook.com/truthmovementresourcecenter
Check out this.
https://canadiansituations.wordpress.com/2015/01/25/a-group-of-energy-sector-insiders-seems-likely-to-rubber-stamp-the-eastern-oil-sands-pipeline/
Climate Direct Action: Activists Halt Flow of Tar Sands Oil by Shutting Off Valves of Five Pipelines
Published on Oct 12, 2016
http://democracynow.org – Ten climate activists were arrested Tuesday for attempting to shut down all tar sands oil coming into the United States from Canada by manually turning off pipelines in Minnesota, Montana, North Dakota and Washington state.
The group, which calls itself Climate Direct Action, includes five activists and five other supporters and videographers.
They posted pictures and videos online that showed them cutting chains and turning the manual safety valves to stop the flow through the pipelines.
The activists issued a statement on Tuesday saying the action was in support of the call for International Days of Prayer and Action for Standing Rock. They also called on President Obama to "use emergency powers to keep the pipelines closed and mobilize for the extraordinary shift away from fossil fuels now required to avert catastrophe."
While all 10 activists remain in jail, we speak Jay O'Hara, co-founder of the Climate Disobedience Center, and Afrin Sopariwala, a member of Climate Direct Action and a part of Women of Color Speak Out, a climate justice collective.
Indigenous Environmental Network
strengthening, maintaining, and respecting traditional teachings and natural laws
http://westcoastnativenews.com/the-canadian-government-wants-to-pay-more-people-to-creep-your-facebook/
Canada's Tar Sands: The most destructive project on Earth?
http://www.youtube.com/watch?v=Sjia7BsP4Bw
Ta'Kaiya Blaney's performance and speech at No Tankers Rally
Canada surpasses Brazil as global leader in deforestation
http://commonsensecanadian.ca/REPORTED_ELSEWHERE-detail/canada-surpasses-brazil-global-leader-deforestation/
Read this Sept. 3 story from the Washington Post on a new report suggesting wild fires and industrial activity are giving Canada the dubious distinction of being the new global leader on deforestation.
WASHINGTON – The world's virgin forests are being lost at an increasing rate and the largest portion of the degradation is in Canada, according to a new report.
No longer is Brazil the main villain in the struggle to stop forest destruction.
"Canada is the number one in the world for the total area of the loss of intact forest landscapes since 2000," Peter Lee, of Forest Watch Canada, said in an interview.
He said the main drivers are fires, logging and energy and industrial development.
"There is no political will at federal or provincial levels for conserving primary forests," he said. "Most logging done in Canada is still to this day done in virgin forests."
Using satellite technology, scientists from the University of Maryland, Greenpeace, Global Forest Watch and the World Resources Institute have tracked changes in the earth's forest coverage. The scientists discovered that the pace of decline is accelerating with more than 104 million hectares – about 8.1 per cent of global undisturbed forests — lost from 2000 to 2013.
If this rate of degradation continues, "business as usual will lead to destruction of most remaining intact forests this century," Dr. Nigel Sizer, director of the forest program at the World Resources Institute, said.
Computer graphics (www.globalforestwatch.org) based on satellite imagery show huge degradation of Canada's boreal forest from the Maritimes to Alberta with little compensatory gain. The boreal forests of Quebec, Ontario, Saskatchewan and Alberta appear to have been hit particularly hard by wild fires and resource exploitation.
READ MORE: http://www.ottawacitizen.com/News/world/Canada+leads+world+forest+decline+report+says/10174673/story.html
WALKING ON OIL – ALBERTA'S OIL SANDS — DOCUMENTARY
https://www.youtube.com/watch?v=palyYInSn64
Published on Sep 17, 2013
Writer/Producer/Director/Editor: GEORGE ANGELESCU
V.O.: PAUL BOUCHE
Walking On Oil – Alberta's Oil Sands melds technological and scientific explanations to tell a timely story.
It identifies 10 major energy companies: Syncrude, Suncor, Shell, Western, Chevron, Albian Sands, Terasen Pipelines, EnCana, Imperial Oil – Esso, and Petro-Canada.
These are all involved in oil sands projects in Alberta. Alberta's landscape forms the backdrop of the program.
The program assures that viewers can locate Alberta geographically, and can see what Alberta looks like.
The Director believed that juxtaposed on-camera interviews (which he did not use), could not authenticate the filmmakers' observations, and the viewers would not have had the freedom to draw their own conclusions.
Neil Young and David Suzuki Against Pipeline and Tar Sands in CANADA
Neil Young blasts tar sands & Harper government
http://www.youtube.com/watch?v=p41EnK7hd7M
Tar Sand Whistle Blower needs help
http://www.gofundme.com/whistle-blower
Tar Sand Truth, John Bolenbaugh, Short clip of Sick residents, Enbridge lies, helppa.org
http://www.youtube.com/watch?v=XrFep4IJ6lY
Published on Mar 23, 2012
http://helppa.org PASS THIS VIDEO TO EVERY FRIEND AND THEIR FRIENDS. WE HAVE TO GET THE TRUTH OUT. Riki Ott asked me to make this for her future speeches around the world.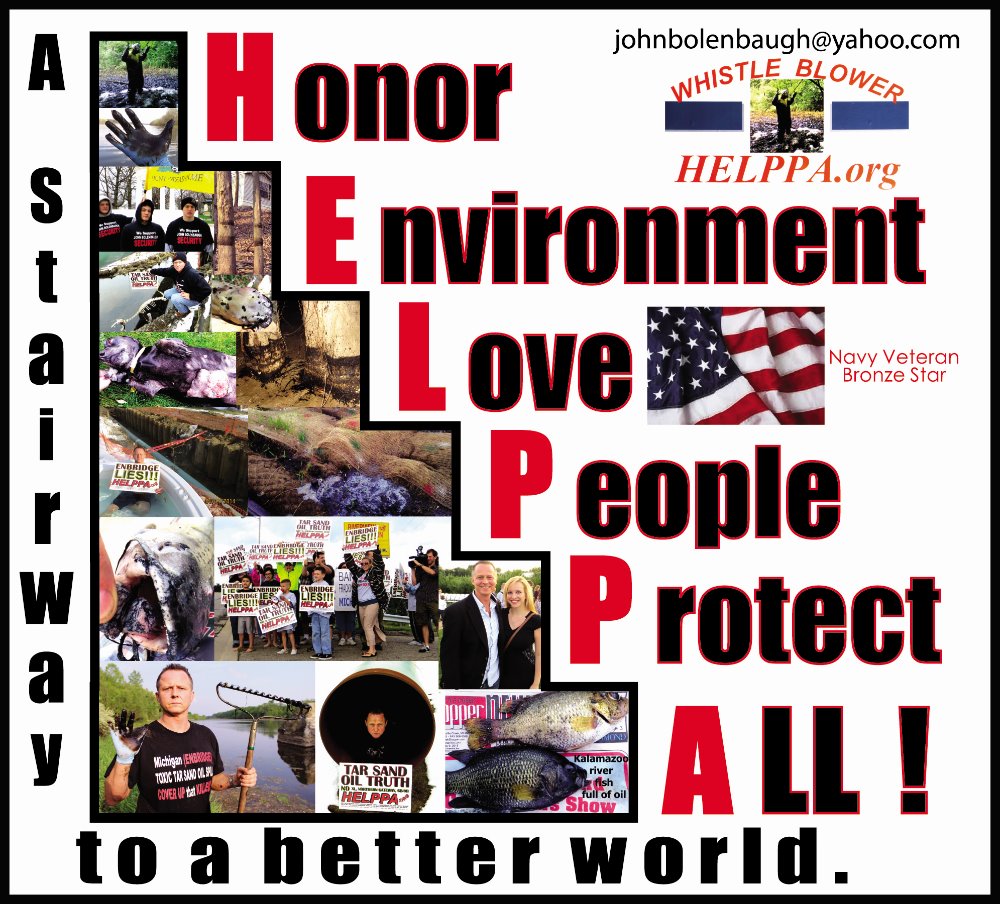 Exxon hired police to harass John Bolenbaugh (Download messed up, will retry later tonight.))
http://www.youtube.com/watch?v=Pz2HVnzfNJQ
Published on May 11, 2013
http://helppa.org
FOOTAGE DIDNT LOAD TO YOU TUBE CORRECTLY. I WILL RE DOWNLOAD THIS TONIGHT AFTER I GIVE MY SPEECHES!!!
As soon as I entered Mayflower and drove by the oil spill site the police were following me and attempting to scare me from the area.
I don't scare easy.
I am pretty sure I will need lots of bail money for the false arrest that will happen after I finish with the speeches and go document the spill. Go to Helppa.org to help me please.
Alberta tar sands protest song
http://www.youtube.com/watch?v=moC-phhfo70
To the Last Drop: Canada's Dirty Oil Sands
http://www.youtube.com/watch?v=61X4IQqnmd0
http://www.youtube.com/watch?v=V8m5PFuYRSI
Uploaded on Jul 27, 2011
Residents of one Canadian town are engaged in a David and Goliath-style battle over the dirtiest oil project ever known.
Canada Under Siege – Part 1 – The Tar Sands, Free Trade, & Government
http://www.youtube.com/watch?v=qpfOsf1f26I
Canada Under Siege – Part 2 – The Economy
http://www.youtube.com/watch?v=o2K3x-Ci8O8
Published on Mar 26, 2013
The Truth About The Tar Sands Pipeline
http://www.youtube.com/watch?v=dNN7h2teaCA
Published on Jun 22, 2012 by barbarbinx
SIGN this PETITION to STOP Enbridge:
http://www.twitter.com/andrewjbarber
http://www.youtube.com/barbarbinx
Learn more about this disturbing situation:
1) http://www.nytimes.com/2012/05/10/opinion/game-over-for-the-climate.html?_r=2
2) http://www.canadianbusiness.com/article/83395–first-nations-to-enbridge-the-war-is-on-decry-pipeline-time-bomb
3) http://www.youtube.com/watch?v=UgvY6zBc3q4
Written by Andrew Barber & Kyle Bottom
Filmed By Evil Patrick – http://www.evilpatrick.ca/
Title Graphics by Max Mitchell – http://www.youtube.com/retrograndprix
"The Creepy Hypnotist w/Terrible Hair" animation by – http://www.youtube.com/redminus
Special Thanks – Ben West
Even though the oilsands are one of the biggest industrial projects on the planet, Canadians don't have access to the data we need to hold polluters accountable for the harm they cause to our health and the environment. That needs to end now.
Tell the federal government that your health is a priority and that polluters must be held accountable for what they put into the air, water and land you depend on.
Tell the federal government to investigate and disclose the full impacts of oilsands pollution today.
Sign and share our open letter today —>
 VIDEO Horrifying truth albout Alberta Tar Sands
The true cost of oil: Garth Lenz @ TEDxVictoria
http://www.youtube.com/watch?v=84zIj_EdQdM
Uploaded by TEDxTalks on Jan 9, 2012
What does environmental devastation actually look like? At TEDxVictoria, photographer Garth Lenz shares shocking photos of the Alberta Tar Sands mining project — and the beautiful (and vital) ecosystems under threat.
For almost twenty years, Garth's photography of threatened wilderness regions, devastation, and the impacts on indigenous peoples, has appeared in the world's leading publications. His recent images from the boreal region of Canada have helped lead to significant victories and large new protected areas in the Northwest Territories, Quebec, and Ontario. Garth's major touring exhibit on the Tar Sands premiered on Los Angeles in 2011 and recently appeared in New York. Garth is a Fellow of the International League Of Conservation Photographers
Filmed at TEDxVictoria on November 19 2011
http://garthlenz.com
http://tedxvictoria.com
About TEDx, x = independently organized event
In the spirit of ideas worth spreading, TEDx is a program of local, self-organized events that bring people together to share a TED-like experience. At a TEDx event, TEDTalks video and live speakers combine to spark deep discussion and connection in a small group. These local, self-organized events are branded TEDx, where x = independently organized TED event. The TED Conference provides general guidance for the TEDx program, but individual TEDx events are self-organized.* (*Subject to certain rules and regulations)
VIDEO Oil On Lubicon Land: A Photo Essay
http://www.youtube.com/watch?v=qz3nSscXamI
Uploaded by GreenpeaceCanada on Jun 17, 2011
Decades of oil and gas developments have had tragic consequences for many communities in northern Alberta.
This photo essay is the personal testimony of Melina Laboucan-Massimo, a Greenpeace campaigner from Little Buffalo, in Lubicon Cree traditional territory, about the devastating impacts a recent pipeline oil spill has had on her community.
Oil On Lubicon Land: A Photo Essay
Melina Laboucan-Massimo, a member of the Lubicon Cree First Nation and a Climate and Energy Campaigner with Greenpeace, describes the impact of oil and gas developments and the recent oil spill in the traditional territory of the Lubicon Cree in northern Alberta.
Tar Sands Oil Extraction – The Dirty Truth
http://www.youtube.com/watch?v=YkwoRivP17A
Uploaded by SustainableGuidance on Apr 27, 2011
Environmental devastation of the land, water, and air – the largest industrial energy project in the world is extracting crude oil from bitumen found beneath the pristine boreal forest of Alberta, Canada. Effecting a land mass equivalent in size to Florida or England, Both industry and government are putting money before the health and security of its people and the environment.
Tar sands take 3 barrels of water to process every barrel of oil extracted. Ninety percent of this water becomes so toxic that it must be stored in tailing ponds. Unfortunately these ponds regularly leach pollution into the third largest watershed in the world.
Water depletion, exploitation, privatization and contamination has become one of the most important issues facing humanity this century. Check out my other video on water issues: http://www.youtube.com/watch?v=XMmpg35Bym0
and see my other videos to learn about the dark side of fossil fuels.
To learn more about tar sands, be sure to check out the featured film sources listed below. Find out more about what you can do and how to support the film makers.
Crude Sacrifice
http://www.crudesacrifice.com/
Dirty Oil (available to watch online)
http://www.youtube.com/watch?v=jA_BBGuCs20
Downstream — (available to watch online)
http://www.babelgum.com/3015242/downstream.html
H2Oil
http://h2oildoc.com/home/
Petropolis
http://www.petropolis-film.com/
Check out a new promising technology to eliminate tailing ponds:
http://www.gizmag.com/ionic-liquids-used-to-process-tar-sands/18214/
Tar sands development can be minimized by blocking development of pipelines, such as Keystone XL, that carry the sludge of this incredibly polluting energy project. Tell Canada to clean up this mess and join with Bill McKibben and Josh Fox and let your voice be heard.
Andrew Nikiforuk – Tar Sands: Dirty Oil and the Future of a Continent
http://www.youtube.com/watch?v=jiNgiPkF0TY
Uploaded by ictvvictoria on Jul 27, 2011
Calgary based journalist and author Andrew Nikiforuk delivers a powerful and revealing presentation on what is really going on with the Alberta Tar Sands. In his talk he discusses the back story, the present and the fate of all oil-addicted "Petro-States". This is Canada's largest and most environmentally destructive mega-project ever and if we don't rethink our dependency on this massive and energy wasteful boondoggle, then we will have much more to worry about than just our economy.
This event was sponsored by the Green Party of Canada.
This event was filmed in 2011, not 2001 as expressed in the credits. (Oooops.)
© 2011 Lazarus Productions
Does Tar Sands Oil Mean "Game Over For the Climate"?
In Washington, DC, the day before the 2012 election, an Occupy action by dozens of protestors blocked the entrance to the law firm McKenna Long and Aldridge, a major law firm with the oldest government contract practice in the United States.  The firm also represents the Canadian corporation TransCanada, which is seeking U.S. government permission to build the Keystone XL pipeline from Alberta, Canada, to the Gulf Coast.
Organizers  called this demonstration a "Tar Sands Solidarity Action," in support of  the Tar Sands Blockade of the Keystone XL pipeline now under construction in East Texas.   Police arrested four people for refusing to move from in front of TransCanada's lobbyist's front door.  Increased non-violent direct action seems to be a harbinger of mounting pressure by environmentalists across the country to persuade President Obama to shut down the Keystone XL pipeline altogether for the sake of the health of the planet.
The President is also under pressure from Canadian officials and the oil industry to give the $7 billion, 1,700-mile pipeline project a green light, for the sake of the health of the global economy.  Industry supporters continue to claim the project  "will create 20,000 shovel-ready jobs," even though TransCanada chief executive Russ Girling admitted a year ago that the number is false, about three times too high.
That same day before the election, the environmental side of the argument got scientific reinforcement when a Canadian newspaper reported that government scientists had confirmed 2010 research showing that tar sands contamination was increasing in the region's precipitation and snowpack.  The article went on to describe how Environment Canada, the Canadian environmental protection agency, had worked to suppress the information and prevent scientists from discussing it with reporters or even at scientific gatherings.
Canada Suppresses Scientific Information
In 2011, Environment Canada tried to suppress its own report on widespread river pollution, by stamping it secret.  After an access to information lawsuit that took six months, the report was released, showing the Canadian government's own projections of the devastating impact of tar sands development on river systems, natural habitats, and the release of greenhouse gases.  The Canadian Association of Petroleum Producers lobbying group said it didn't see any "new" information in the report.
The President is expected to announce his decision about the Keystone pipeline in early 2013, prompting environmental groups to mount new mass actions now.  On Sunday, November 18 in Washington, 350.org is organizing a march around the White House and rally at Freedom Plaza.  That same weekend in East Texas, Tar Sands Blockade is training volunteers for a non-violent action on Monday, November 19, along the pipeline route.  Solidarity demonstrations are planned across the country for the week of November 14-20.
The day before the presidential election also marked the beginning of the seventh week of the Tar Sands Blockade's tree-sitting in trees TransCanada wants to cut down, a form of non-violent resistance in the path of pipeline construction.
The blockade, which started with eight tree-sitters at one location on September 24, has slowly expanded to numerous tree-sitters in a variety of locations.
While the tree-sitters and their supporters on the ground have slowed pipeline construction somewhat, the TransCanada crews have continued working up to and beyond the blockades, with occasional violent, direct confrontation.   The company has hired an unknown number of private security officers, in addition to the county sheriff's officers already on the scene, and it uses helicopter surveillance.
Presidential Candidate Arrested Supporting Blockade 
On October 31, a TransCanada employee who showed no identification, arrested a presidential candidate, Green Party nominee Dr. Jill Stein, after she had delivered a knapsack full of supplies to the tree-sitters.   The video
of this event shows a construction worker with a swastika clearly showing on the front of his hardhat.  Salon.com reported on November 8 on "an actual neo-Nazi among the ranks of construction workers" and showed a picture of a man with a swastika showing clearly on the back of his hardhat.
This photo was taken by one of our supporters at our action last week in which two new tree blockaders where arrested for delaying construction. This Keystone XL construction supervisor was on scene directing workers and police while wearing a helmet covered questionable symbols: a swastika and confederate flag. We are at a loss for words of how to respond and think this picture speaks for itself. Is this TransCanada's idea of a "good neighbor"?
Candidate Stein explained her position in a three-minute video
and in a written statement issued before her arrest with six other people, Dr. Stein wrote:
I'm here to connect the dots between superstorm Sandy and the record heat, drought, and fire we've seen this year – and this Tar Sands pipeline, which will make all of these problems much worse. And I'm here to connect the dots between climate devastation and pipeline politicians – both Obama and Romney – who are competing, as we saw in the debates, for the role of Puppet In Chief for the fossil fuel industry. Both deserve that title. Obama's record of "drill baby drill" has gone beyond the harm done by George Bush. Mitt Romney promises more of the same.
Stein had never been arrested in her life before she became a presidential candidate.  This misdemeanor arrest for trespassing was her second in a month.  Her first arrest was for disorderly conduct, when she tried to enter the building for the second presidential debate at Hofstra College in New York.   Her arrest was the 32nd arrest\ related to the Tar Sands Blockade.
Police Go After Tree Sitters with Cherry Pickers
October 31 was the day the Tar Sands Blockade first arrived in Nacogdoches County in East Texas, near the town of Sacul, complete with local TV coverage.  The contingent of about a dozen people included two New England women, identified only as Lauren and Pika, who established a new tree-sitting position.
County sheriff's officers used cherry pickers in an effort to bring the women down.  They succeeded with Lauren.  But Pika, who is an experienced climber from Vermont, climbed higher in her tree, beyond the reach of the cherry picker.  Police then cut down her platform and climb line, leaving her with only the rope she had on her person.   While still in the tree, about 70 feet up, she wrote:
I'm sitting in this pine tree under flood lights and the watchful eyes of cops,
 just thinking about all the implications of this pipeline
and that the destruction I see 70 feet below me is just one tiny part.
I feel grief, but I also feel strong!
I don't have any food or water. I couldn't get it high enough quickly enough,
so the cops cut it down. 
It's starting to get a little chilly.
Thanks so much for all the amazing support!!
At about 2 a.m., Pika came down and was arrested.  She and Lauren were each charged with Fourth Degree (State) Felony Criminal Mischief and Class B Misdemeanor Criminal Trespass minus the Class A Misdemeanor Resisting Arrest charge.   Bond was set at $25,500.   They were identified as Lauren Zygmont, 24, of Concord, N.H., and Hannah Morgan, 24, of Hartland, Vermont.  When they were released, police kept Pika's shoes.
Earth First News reports that, on an earlier occasion, police used similar tactics on another climber, Tre Arrow, "causing his near-fatal 40-foot fall."
In Austin, Texas, a disorganized call for Tar Sands Blockade solidarity march on November 5 produced a turnout of half a dozen people or so, even though many more had responded on Facebook that they'd be there.   Support rallies the preceding three weeks had drawn TV cameras and some newspaper coverage.
On November 9, a Vermont Solidarity Event put on by Rising Tide Vermont and 350 Vermont held a dessert fundraiser that raised $400 for Tar Sands Blockade.
The International Stop the Tar Sands Day (ISTSDay) network has inspired people around the world to organize, educate and mobilize civil society to stop Alberta's destructive Tar Sands industry, every year on June 18th.   Tar Sands Day events took place this past weekend, in 11 Canadian cities, the United States, Europe, Nigera and countries as far away as New Zealand!
In Toronto, Greenpeace volunteers and Environmental Justice Toronto organized a "demo-fest" in Trinity Bellwoods park, speaking with hundreds of people about the real impacts of Alberta's Tar Sands: deforestation, climate change, poisoning communities downstream and the violation of Indigenous peoples rights.  With the help of a Toronto-based activist drumming collective, Rhythms of Resistance Toronto, people around the busy park heard loud and clear that we need to "Stop the Tar Sands"!  A cheerleading squad also toured, making sure everyone heard about the Tar Sands' environmental and human rights crimes.
As people joined our activities, children were invited to fish in our Toxic Tailings Pond or have their face painted.  While others chose to try our tasty "Alberta Lemonade", which was falsely advertised as coming from the contaminated Athabasica River, part of Canada's largest river system.  People were asked how they would feel about drinking the water downstream communities are faced with in Alberta, water laced with heavy metals, pollutants and toxins.  In addition, we had a roaming trivia game, testing the public's knowledge about the Tar Sands, Canada's largest emitter of greenhouse gases.
Droves of people also contributed to our banner making activities.  First by dipping their hands in black paint, symbolic of dirty Tar Sands oil, and leaving their handprints on our giant banner that  read "Joining Hands to Stop the Tar Sands".  Afterwards, they read about Alberta's largest and most recent oil spill, which has affected the community of Little Buffalo, Alberta and the Lubicon Cree First Nation.  They then signed our banner "Dear Little Buffalo", with their own personal messages of support and solidarity as people in the community are still experiencing ill-effects and ongoing threats, like health problems and dangerous forest fires.
Two Environmental Justice popular education workshops were also held, bringing participants together to talk and reflect on Alberta's Tar Sands.  As one community organizer declared: "Our government must stop providing subsidies and expanding this dirty industry.  Instead, we implore Canada and Alberta to make substantial investments into the renewable energy sector, to respect aboriginal treaty rights, and to provide a just transition for workers and frontline communities in the Tar Sands. This is what a healthy and just Canada looks like" said Kimia Ghomeshi, organizer with Environmental Justice Toronto.
Community organizers and activists work everyday of the year in the struggle to stop the Tar Sands, as one organizer reminds us: "Enbridge has proposed to build its Northern Gateway Pipelines from the tar sands, through our territories, and through many of our critical salmon-bearing rivers," says Jasmine Thomas, a Saik'uz woman speaking on behalf of  the Yinka Dene Alliance, an alliance between 5 First Nations of a total of 80 First Nations in British Columbia that oppose the pipeline developments. "These waters, the fish and the wildlife that they sustain, are the lifeblood of our people.  Therefore, after long consideration, we have said NO to these projects that are against our laws and could destroy our people's futures."
Big thank you to other groups and organizers who came out to support our Stop the Tar Sands Day: Rhythms of Resistance Toronto, People's Assembly on Climate Justice, Environmental Defense, Bells on Bloor, Protest Barrick, EcoSanity, No One Is Illegal and Council of Canadians.
————————————
Ecojustice research offers troubling glimpse of harm oilsands pollution causes
Posted by Kimberly Shearon at Mar 05, 2013
Photo by Dan Woynillowicz, The Pembina Institute – oilsandswatch.org
By Dr. Elaine MacDonald, senior staff scientist
What's really going on in the oilsands region?
That's the question Ecojustice hoped to help answer when we undertook our latest research. What we uncovered was unsettling, to say the least. Our research showed that toxic emissions from oilsands facilities in Northern Alberta are polluting the nearby Athabasca River, contaminating a waterway that's home to more than half of the province's fish species.
The Athabasca River is Alberta's longest and only major free-flowing river, and it holds ecological, cultural and commercial significance for the people that live along its shores. It is also a vital life source for many wildlife species.
How we did it
Ecojustice used the limited public information available through the National Pollutants Release Inventory to conduct deposition modelling that illustrates how particulate matter emitted by two separate oilsands facilities pollutes the Athabasca River. The analysis was purposely conservative, examining just one of more than a dozen stacks at each facility.
Learn more! Read the full report here.
http://www.ecojustice.ca/publications/oilsands-pollution-and-the-athabasca-river/attachment
What we found
The modelling estimates more than 1,000 tonnes of particulate matter deposition from the two stacks in just one year. Taking into consideration all sources of emissions along the river, the cumulative impact of oilsands pollution on the Athabasca and its surrounding ecosystems is likely significant.
Why is particulate matter bad for people and the environment?
Upgrading oil extracted from Alberta's oilsands is a nasty bit of business. Huge amounts of energy are required to extract the thick, tarlike substance from the earth and transform it into synthetic crude oil.
The burning and combustion associated with upgrading comes at a heavy cost: the release of airborne pollutants, including particulate matter containing toxic polycyclic aromatic compounds. These substances have been found to cause cancer in humans and impact the development and survival of fish.
The BIG problem
Even though the oilsands are one of the biggest industrial projects on the planet, the federal government doesn't monitor and report oilsands pollution in an accessible, transparent way. That means groups like Ecojustice have to go to great lengths to dig up and analyse data that should already be easily available to the public.
And without that data, Canadians have no way of holding polluters accountable for the harm polluters cause to our health and the environment. That needs to end now.
How you can help
You can take action today by sending a message to the federal government.
Tell the federal government that your health is a priority and that polluters must be held accountable for what they put into the air, water and land you depend on.
Tell the federal government to investigate and disclose the full impacts of oilsands pollution today.
Fw: The depth of the Toxic Economy of the TAR SANDS exposed
To: undisclosed-recipients@cds044.dcs.int.inet
Sent: Sunday, January 19, 2014 5:08 PM
Subject: Neil Young's anti-Tar Sands Tour a Gusher…. but still people complain….
The depth of the Toxic Economy of the TAR SANDS exposed
Neil Young has unleashed a massive attack against the Athabasca Tar Sands projects, in support of the Athabasca Chipewyan First Nation's legal proceedings to honour the treaties that would keep this land safe….
http://www.cbc.ca/news/canada/calgary/neil-young-concert-tour-surpasses-anti-oilsands-fund-goal-1.2502895?cmp=rss
In return, the government is attempting to minimize the importance of this message.
Well, a picture is worth a thousand (or so) words.     Look at the picture
THIS is what Neil Young and the Chipewyans are fighting.
And if YOU do not think this is worth fighting against, if YOU do not think this rape of our land and resources is not criminal, YOU need to give your head a serious shake.  Take a good close look at what this picture says to you, because it is not the only gash in Mother Earth caused by greedy oil men in this country, and the greedy government that lets them do this to our land… for money.
Here is a picture that you MUST SEE before you expound on the idea that "the Tar Sands" is an intelligent and survivable enterprise. 
And yes, folks, that IS the Athabasca River flowing within FEET of those toxic tailing ponds.
Tar Sands: The Most Destructive Project on Earth
http://www.treehugger.com/renewable-energy/tar-sands-the-most-destructive-project-on-earth.html
Tar Sands: The Most Destructive Project on Earth
Lloyd Alter
Energy / Renewable Energy
February 19, 2008
Edward Burtynsky
Environmental Defence just released a new report on the Alberta Oil Sands, calling it the most destructive project on Earth. DeSmogblog gleaned some facts from it:
–  Oil sands mining is licensed to use twice the amount of fresh water that the entire city of Calgary uses in a year.
–  At least 90% of the fresh water used in the oil sands ends up in ends up in tailing ponds so toxic that propane cannons are used to keep ducks from landing.-
–  Processing the oil sands uses enough natural gas in a day to heat 3 million homes. –
–  The toxic tailing ponds are considered one of the largest human-made structures in the world. –
The (toxic) ponds span 50 square kilometers and can be seen from space.
–  Producing a barrel of oil from the oil sands produces three times more greenhouse gas emissions than a barrel of conventional oil.
All to keep up the happy motoring! PDF of report here
http://www.environmentaldefence.ca/reports/pdf/TarSands_TheReport.pdf
via ::DeSmogBlog
 (i.h.  All to keep perpetual profits flowing into corporate coffers – without accountability)
For more of my humble opinion, visit: